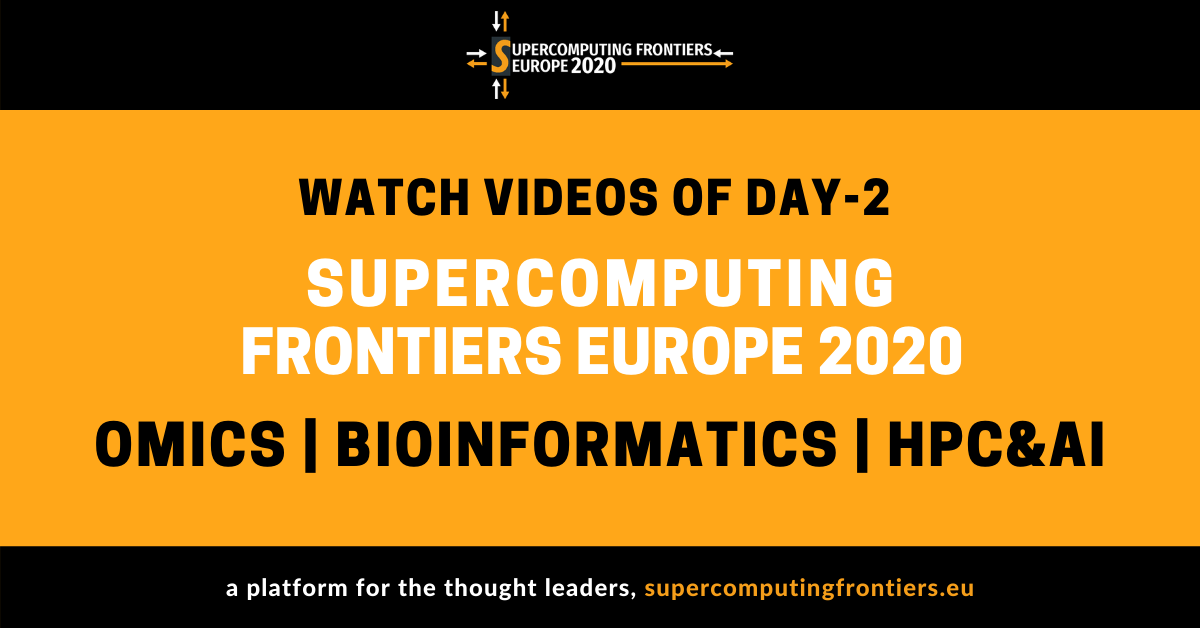 2nd July, 2020
Watch Videos of Supercomputing Frontiers Europe 2020: Day-2 [Omics, Bioinformatics, HPC Services, HPC&AI]
Keynote talk of ROB KNIGHT from University of California San Diego titled The Human Microbiome: Big Challenges, Big Data, Big Compute, as well as several invited talks on OMICS, BIOINFORMATICS, SUPERCOMPUTING EDUCATION, HPC&AI or HPC SERVICES, PROVISIONING AND DELIVERY are now available on Supercomputing Frontiers Europe website.
Recordings of DAY 2 of the Supercomputing Frontiers Europe 2020 have been released on the 2nd  of July under the MEDIA tab. SCFE20 presentations can be also accessed via ICM University of Warsaw YouTube channel.
Stay tuned – recordings of DAY 3 SCFE20 will be published in August.
---
VIDEOS OF THE DAY-2
OMICS
ROB KNIGHT, University of California San Diego | The Human Microbiome: Big Challenges, Big Data, Big Compute [keynote lecture]
VLADIMIR BRUSIC, School of Computer Science, University of Nottingham Ningbo China | Single cell transcriptomics – new challenges for Big Data analytics
TRILCE ESTRADA, University of New Mexico | Graphic Encoding of Macromolecules for Quantitative Classification of Protein Structure and Representation of Conformational Changes
LAURA BOYKIN, Cassava Virus Action Project | Utility of Real time portable genome sequencing and HPC for global food security
JOANNA TRYLSKA, Centre of New Technologies University of Warsaw | Functional dynamics of biomolecules with supercomputers
BIOINFORMATICS
PIOTR BALA, ICM University of Warsaw | High Performance Services for genetic research
SUPERCOMPUTING EDUCATION
WARSAW TEAM | HPC Adventures: Warsaw Team around the world
SPONSOR LECTURES
FLORIN MANILA, Senior Architect and Inventor IBM | HPC Transformation with AI
RICK KOOPMAN, EMEA Technical Lead HPC and AI at Lenovo | Managing the Convergence of HPC and AI
INDUSTRY & START-UPS
ŁUKASZ ORŁOWSKI, Co-Founder and CTO of Archanan | Tomorrow's Supercomputers, Yesterday's Practices: Applications of cloud-backed large system emulation for supercomputer software development
NICOLAS TONELLO, Constelcom Ltd | Constellation® – Supercomputing at your fingertips – Delivering HPC power and expertise to all
---
SEE ALSO
10 recordings of the Virtual ICM Seminars In Computer And Computational Science – worldwide Open Science online meetings in HPC, AI, Quantum Computing, BigData, IoT, computer and data networks held in the past few months after SCFE20 conference.
The series of Virtual ICM Seminars in Computer and Computational Science will return in the new academic year 2020/2021.
Details soon on supercomputingfrontiers.eu/2020/seminars/
---