Media
Discover visionary ideas and innovations delivered to you by the outstanding Supercomputing Frontiers Europe speakers.
Here you will find a selection of talks given at SCFE — both from the keynote and invited speakers — as well as video reports and exclusive interviews. Press play and let experts inspire you as if you were sitting in the front row of the conference hall.
Supercomputing Frontiers Europe 2019 (March 11—14, Warsaw, Poland)
Clicking on photo below will redirect you to photo gallery from SCFE 2019.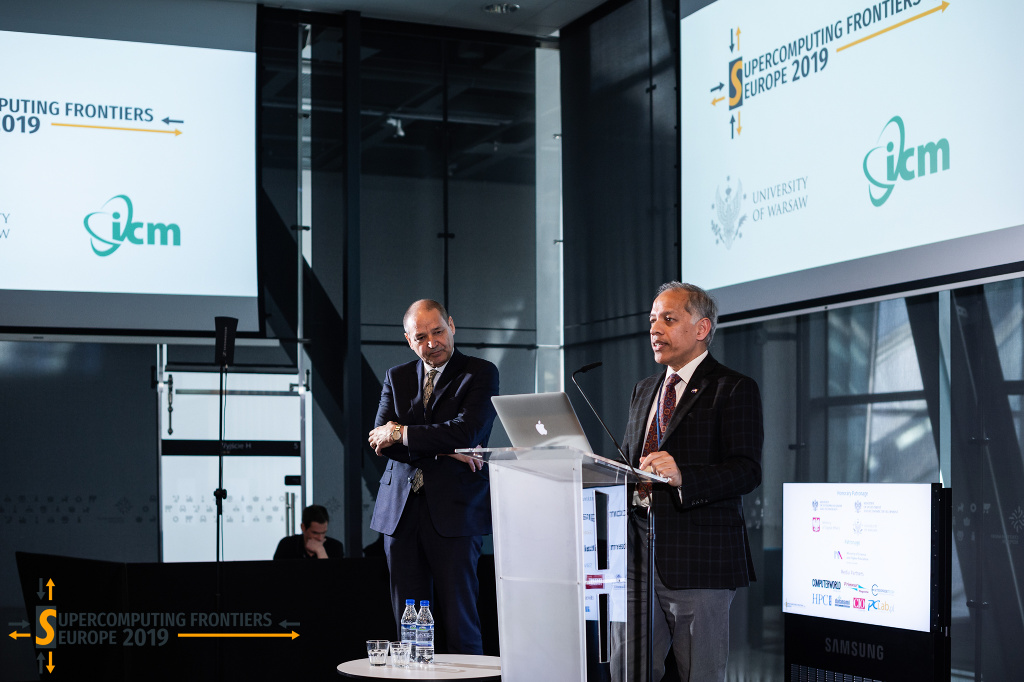 Supercomputing Frontiers Europe 2018 (March 12—15, Warsaw, Poland)
Highlights
Supercomputing Frontiers Europe 2018 Video Report
Interviews
Interview with Dr. Dimitri Kusnezov, Supercomputing Frontiers Europe 2018
Interview with Prof. Karlheinz Meier, Supercomputing Frontiers Europe 2018
Interview with Prof. Thomas Sterling, Supercomputing Frontiers Europe 2018
Keynote speakers talks
Dr. Dimitri Kusnezov, Department of Energy, USA
Supercomputing Frontiers Europe 2018
Prof. Karlheinz Meier, Heilderberg University, Germany
Supercomputing Frontiers Europe 2018
Prof. Thomas Sterling, Indiana University, USA
Supercomputing Frontiers Europe 2018
Invited speakers talks
Robert Ewald, D-Wave, USA
Supercomputing Frontiers Europe 2018
Joe Mambretti, Northwestern University, USA
Supercomputing Frontiers Europe 2018
Warsaw Team, Supercomputing Frontiers Europe 2018
Luke Barton, Kalypton, UK
Supercomputing Frontiers Europe 2018